While drawing research conclusions, an expert researcher always looks into the details, beyond just the aggregate of responses collected. Almost every survey has some anomalies in responses and often, these anatomies lead us towards analyzing a trend that may have been previously ignored. This is where deep-diving into individual response data plays a critical role for a researcher as they draw insights from their surveys.
SurveyAnalytics now enables a researcher to evaluate each of the obtained responses with the "Individual Response Download" option. This feature facilitates downloading, editing or deleting of responses collected by each and every respondent. Details about the respondent's source, IP address, timestamp, the time taken to complete the survey and other such information can be retrieved from the Response ID.
A 'Response Viewer' is a dashboard where real-time information from the respondents is reflected. This is where each and every response, individually, can be viewed, edited, downloaded or deleted. A researcher can also send emails to individuals, print each response and also gain access to individual Spotlight reports.
To view, edit, download or delete individual responses:
Login to the SurveyAnalytics account >> Surveys >> Manage Data >> Responses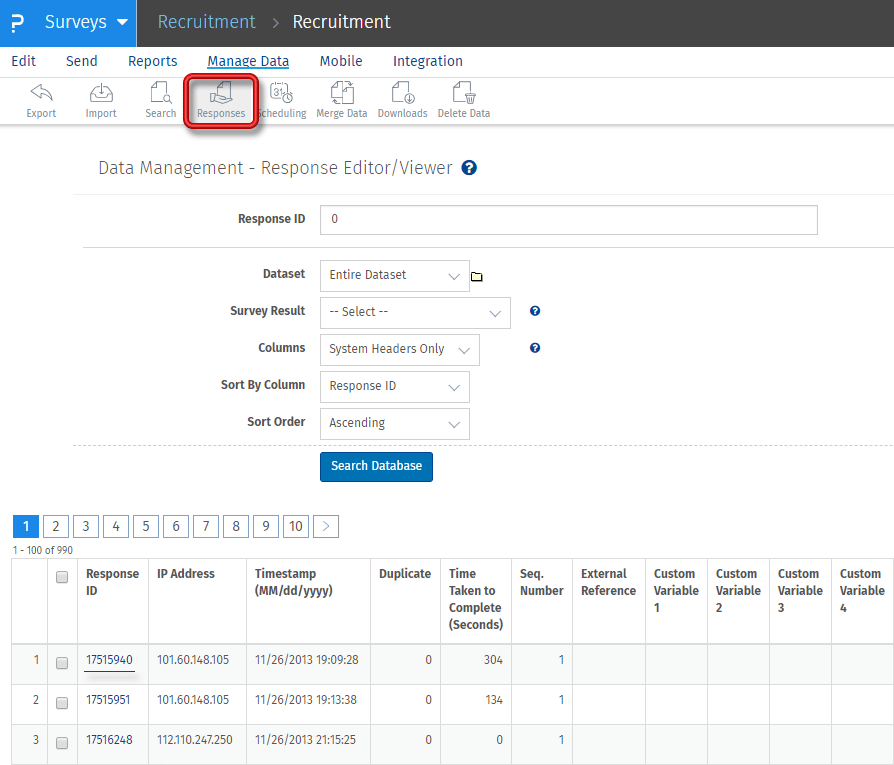 To view a specific response, click on the hyperlink associated with a specific Response ID (as highlighted in the image above). This will open a popup which contains the information of the individual response.

The default response appears in the

Individual Report

tab while the response can be edited from the

Edit Response

tab.

After making the changes from the Edit Response tab, click on the

Update Changes

option. But, it is important to edit the responses only when the respondents are aware of the changes and not otherwise and only one question can be edited at a time.

The tab for

Spotlight Report

will produce respondent's answer options compared to the other available options

.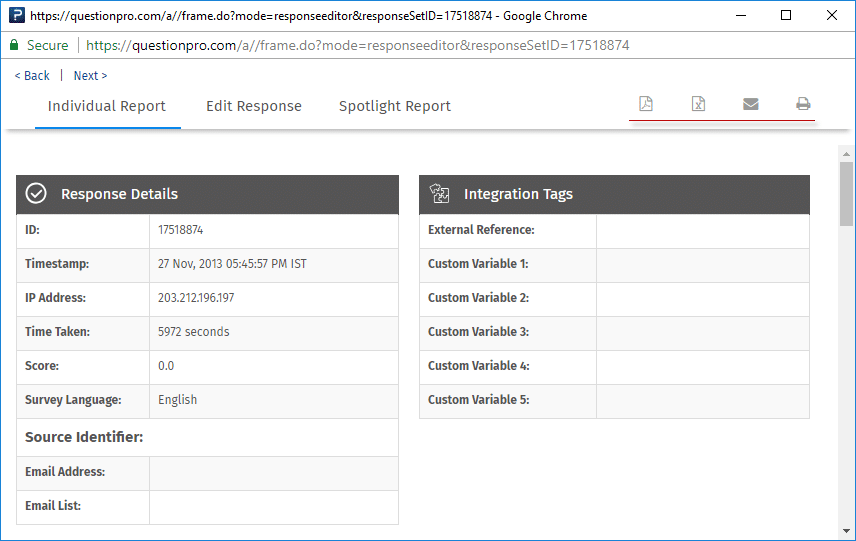 There are four export/download options available: PDF, Excel, Email, and Print.