If you're sending customer satisfaction surveys to your customers, we have good news! As a part of our Advanced Reporting initiative, we've released an advanced reporting widget in our dashboard within our Customer Experience platform.
Add your CSAT question type into your survey as you normally do, and with a few clicks of your mouse in Analytics, you can see your CSAT summary in a widget within your custom-built dashboard.
Customer Satisfaction Reporting Scales
Our CSAT reporting comes in various rating scales:
3-point scale (1-3)
5-point scale (1-5)
6-point scale (1-6)
7-point scale (1-7)
10-point scale (1-10)
And also comes in graphical (star or smiley) scales:
1-3 and 1-5 Smiley
1-3 and 1-5 Star
CSAT Reporting: Calculation Methods
Composite Score
We've built the reporting to calculate the Composite CSAT Score, also known as the Average score.
Top-2 Box Score
You can also choose to report your CSAT in Top-2 Box Score.
This CSAT advanced widget reporting is another tool in your Customer Experience (CX) toolkit that will enable you to measure each customer interaction and understand which touchpoint to improve. When you combine the CSAT reporting with NPS, you can easily understand the areas for improvement and how each CSAT interaction can impact your NP
Adding CSAT Question Type
To add a Customer Satisfaction question, find the "Customer Satisfaction" type under "Advanced."

Choose your scale type after you add the CSAT question type under "Settings"

CSAT Dashboard Reporting
To add the CSAT reporting widgets into your dashboard, go to your Analytics tab.
Click on "Add Widget" and select "Survey" as your widget type, then choose your desired CSAT survey.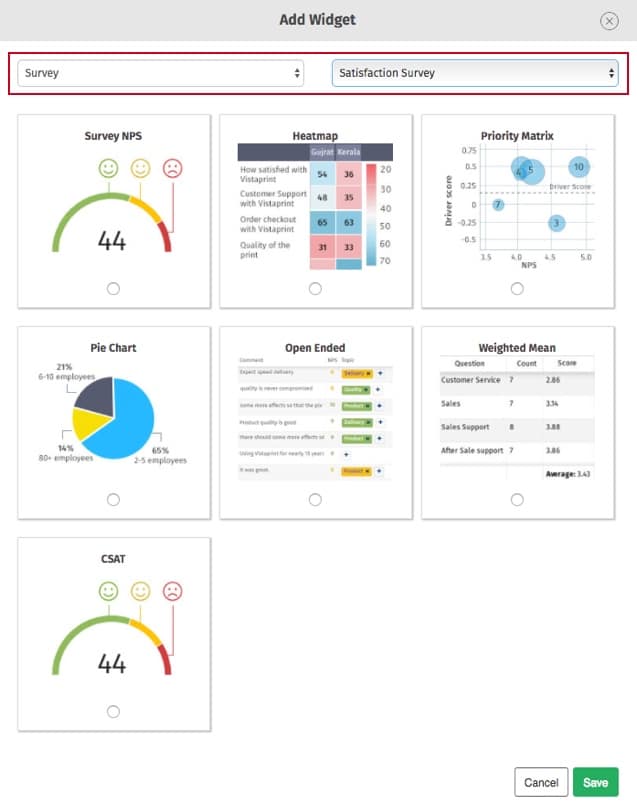 Once you save, your CSAT reporting widgets will appear in your dashboard.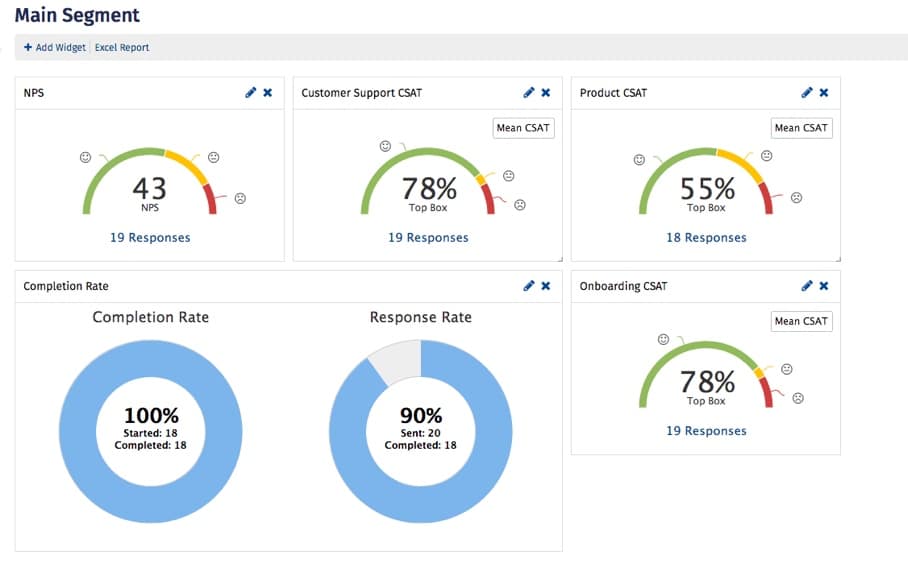 Building an automated customer experience program with the right partner matters. Contact us today to learn how to get started and begin your trial account with SurveyAnalytics.